In 2023, under new university leadership, the Boniuk Institute received an expanded charge—to become a premier interdisciplinary research and scholarly institute focusing on religious pluralism and tolerance.
To that end, the Institute embarked on a lengthy strategic planning process, the result of which is a three-part plan that will move us toward that goal: the Institute will Discover new knowledge through original research; Convene thought leaders across disciplines and sectors; and Disseminate knowledge based on our research among relevant local, national, and global communities in order to promote meaningful change.

Read below to learn more about the first of our three-part plan.
Discover New Knowledge Through Original Research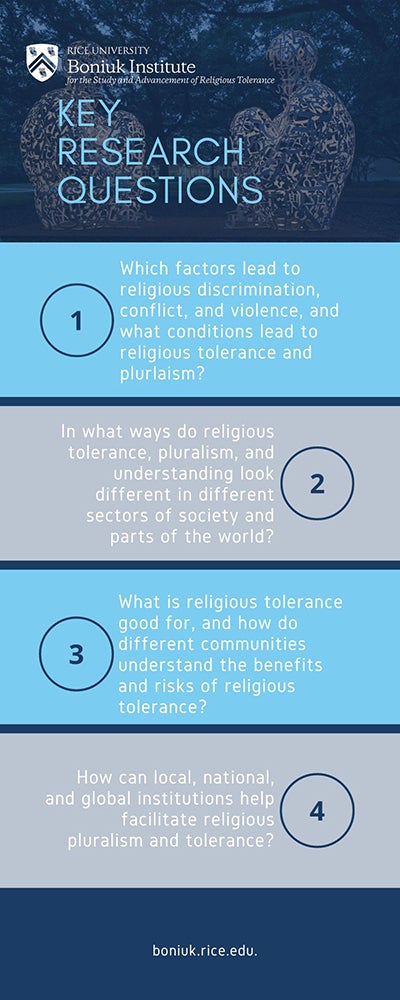 In a time of religious and political strife worldwide, the Boniuk Institute provides a platform for the religions of the world to come together under a common framework to provide a voice of reason.

The Boniuk Institute will conduct and sponsor original multidisciplinary research in order to understand the conditions that lead to robust religious tolerance and pluralism, as well as those that lead to religious intolerance, conflict, and discrimination through the following initiatives:
GLOBAL RESEARCH

Research Focus: In what ways to religious tolerance, pluralism, and understanding look different in different sectors of society and different parts of the world?

The Global Religious Pluralism Initiative will be a multiyear global data collection effort involving scholars from different disciplines in a focused effort to analyze and understand how the conditions and consequences of religious tolerance, understanding, and pluralism shape and are shaped by interactions, practices, policies, discourse, and trends at each level of society around the world.

A Global Re-Granting Initiative will sponsor original research from scholars from different disciplines conducting global studies of religious diversity, collaboration, and conflict at the intersection of societal levels within and among institutional domains, such as government, education, science and medicine, workplaces, and religious organizations. The Institute will synthesize the findings of these projects and use them to make research-informed contributions to our understanding of how religious tolerance and pluralism work across nations and contexts, and how to foster socially beneficial pluralism and reduce religious conflict and discrimination.
LOCAL RESEARCH

Research Focus: What is the civic capacity of Houston's religious communities? To what extent do Houston's religious communities work together for the common good of our city?

The Mapping the Civic Capacity of Houston's Religious Communities Initiative will map the collective civic capacity of Houston's religious communities, their approaches to inequality, and how they see religious pluralism and tolerance as relevant to their work. This focus on a local context will allow the Institute to apply its research and scholarship directly, while at the same time increasing the civic capacity of religious communities in its home city of Houston, Texas. 
RESEARCH CENTERS

To further expand the work of the Boniuk Institute, and to broaden its research focus and intellectual discovery, the Boniuk Institute will also develop two - four research centers comprised of multiple scholars and faculty at Rice University and beyond. Proposed centers include: a Center on Religion and Public Life and a Center on Religion, Science, Health, and Environment.