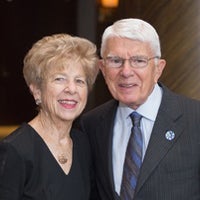 Houston philanthropists Milton and Laurie Boniuk have been described as "the neighbors that any great institution would rejoice to have." The couple is well-known for their passionate advocacy of religious tolerance and have demonstrated a remarkable commitment to achieving peaceful solutions among all faiths and beliefs, both at Rice University and beyond.
The Boniuk's interest in promoting religious acceptance was sparked at Baylor College of Medicine, where, as the Caroline F. Elles Chair of Opthalmology, Dr. Boniuk interacted with hundreds of medical students and residents of divergent backgrounds. His interest grew stronger after he was asked to serve on the board of Houston's newly established Holocaust Museum. "I thought to myself, 'It is very difficult to teach tolerance. People are too busy. It's not a priority for them,'" Milton explained. "I decided to do something to change that."
Eager to help people of different faiths, or of no faith, learn to coexist peacefully and respectfully, Milton and Laurie made a gift to Rice in 2004 to establish a center dedicated to promoting deeper understanding of religious tolerance in Houston. In 2013, they funded the expansion of the (Boniuk) Center so it could extend its efforts on a global level. Because of their generosity, the Boniuk Institute for the Study and Advancement of Religious Tolerance now brings together scholars from a range of disciplines to conduct innovative research into religious tolerance and intolerance and to use that knowledge to make policy recommendations and design educational and outreach programs for both young people and adults.
"Laurie and I want people to learn to respect others for what they are," Milton said. "Let everyone pray the way they want and use whatever symbols they want, as long as they're good citizens and treat everybody with respect."